Relative Aperture Art Show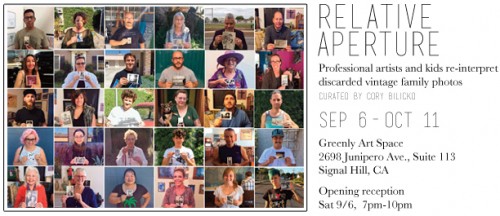 I will be featured in this upcoming show at the beautiful Greenly Art Space!  Would love to see you all there!
Relative Aperture Art Show
Professional artists and kids re-interpret discarded vintage family photos
Curated by Cory Bilicko
Greenly Art Space
2698 Junipero Ave., Suite 113
Signal Hill, CA
Sept. 6–Oct. 11
Opening reception
Saturday, Sept. 6, 7pm–10pm
greenlyartspace.com (562) 533-4020
Greenly Art Space is a 501c3 nonprofit.