ABOUT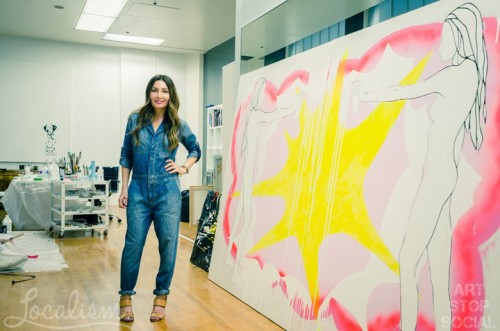 MOJGAN EDALAT McCLUSKY
I believe that the viewer plays an important role in art.  When I paint, I want those who see my art to be engaged and to bring their own interpretation to my paintings.  I paint from the heart; therefore, each work contains a little piece of me.  It is my goal to touch those who view my work in the simplest way – a smile to one's face, a happy thought to one's mind or a wow to one's lips.  If a viewer of my work feels something, I know I have done my job. – Mojgan
ABOUT
Born in the pastoral city of Tehran, Iran, the daughter of an artist and an educator, Mojgan moved to New York in her late teens.  Exposure to Manhattan and the world's grandest city further ignited her passion for art from a dream to a reality, which continues today at her art studio in Long Beach, California. Mojgan's style is one that is open to interpretation. You can look at her work as contemporary yet established – modern yet traditional.  However, in all of her works, she strives to maintain a precision to detail without sacrificing balance or overall composition.  Lately, Mojgan has been focusing on what she refers to as her lost childhood.  The Iranian-born minimal-contemporary artist is currently focusing on this theme in her current series of paintings.
Art history is rife with artists creating homage to their childhood and upbringing.  In fact, the minimalist approach that Mojgan typically takes to her work fits appropriately to express her feelings toward the environment that she was born and raised.  As a youth, Mojgan was required to deal with a violent revolution that began in the late 1970s.  With the lack of a stable and comforting home life, and chaos on the streets, Mojgan had no place to thrive.  As such, her work represents the ways that many young people with unstable or violent environments miss out on their childhood.
Mojgan's works have been enthusiastically received and collected by numerous private parties that include business owners, corporate executives, professional athletes, television personalities and everyday art enthusiasts.